Due To Funeral Of Queen Elizabeth II
Along with the rest of the nation, we send our deepest condolences to the Royal Family following the passing of Her Majesty Queen Elizabeth II.
On the day of the state funeral, Silver Lining Convergence will close to allow our team to be together with their family and friends.
Bank holiday changes to our standard support and porting desk hours apply, with the business set to resume as usual on Tuesday, 20/09.
What's All The Hype About?
What if there was a way to get internet much faster than you can get through your current service provider? That's the promise of Starlink, a new satellite internet service from SpaceX. But what is Starlink, and is it worth the hype? Here's everything you need to know.
What is Starlink?
Technically speaking, it's a satellite internet system. But to average web users, it's a potential godsend. 
If you operate in a city or other densely populated areas, you probably enjoy fast internet speeds, maybe at 1Gbps or beyond. But if you are a business in a rural area, you may only get internet speeds at 20Mbps, or even as low as 0.8Mbps.
Worse, your business only has one or two internet service providers, leaving you stranded with poor service.  
Enter Starlink. The satellite internet system from SpaceX can theoretically deliver 150Mbps internet speeds to any place on the planet. All the customer needs is a clear view of the sky.  
In late 2020, the system began serving its first users, many of whom were based in remote or rural regions of America—and the response was enthusiastic. Two years later, Starlink earned its first PCMag Readers' Choice Award for top US ISPs. 
How Does Starlink Work?
Satellite internet technology has been around for decades. It involves beaming internet data, not through cables, but via radio signals through the vacuum of space. Ground stations on the planet broadcast the signals to satellites in orbit, which can then relay the data back to users on Earth. 
One of the existing primary providers has been HughesNet, which relies on satellites 22,000 miles above the planet.
SpaceX's system improves on the technology in two unique ways: The company wants to use low-Earth orbiting satellites that circle the planet at only around 300 miles above the surface. 
The shortened distance can drastically improve internet speeds while also reducing latency. Second, they want to launch as many as 40,000 satellites in the coming years to power the system, ensuring global coverage without service dropouts. 
Important Industrial Action
It has been announced that both BT and Royal Mail will be undertaking strikes over the coming weeks, which is likely to cause significant disruptions to both businesses and households across the country. So now is the time to prepare yourself to avoid the snowball of catch up after the strikes.
BT's two-day strike will cover the following dates:
Tuesday 30th August
Wednesday 31st August
Royal Mail strikes will take place on the following dates:
Friday 26th August
Wednesday 31st August
Thursday 8th September
Friday 9th September
These strikes will impact delivery, network repairs, products and service levels across the country. Therefore, please plan ahead and prioritise cases so that day-to-day running is affected less.
Preparing for BT Strike:
Please ensure you only escalate urgent cases that meet either the CNI category
Appointments including EAD survey, EAD Fibre Fit & Tests: notifications will be sent from open reach to rebook
General contact: this will still operate, though levels of service may be lower
Repair: this will be prioritised, and Openreach will continue to aim for the 5-hour fixed SLA
Implementation of priority staircase – as follows:
Blue light – repair and provision – emergency services
Welfare and vulnerable repair
CNI repair
CNI provision
Major service outages, significant incidents, and emergency safety incidents (prioritised on volume and effect/impact)
Repair for loss of service
Repair
Provision
Proactive build
BAU build
FVR (fault volume reduction) proactive repair of the network
Preparing for Royal Mail Strike:
Post your items as early as possible in advance of the strike dates
Continue to post your items at Post boxes or Post Offices; however, collections will be less frequent on days when strike action occurs.
Letters will not be delivered (unless special delivery)
Covid test kits and medical prescriptions will be the top priority.
Special Delivery and Tracked24 parcels will be prioritised.
Additional resources will be implemented by Royal Mail after the action takes place.
The combination of BT and Royal Mail striking at a similar time will result in resources, repairs, delivery of core parts being delayed, and creating an expected backlog. Prepare yourself now, and don't let your business suffer.
Update to stay secure!
Apple users are currently facing incredibly serious security risks, potentially allowing hackers to take control over entire devices! The attackers have been targeting the operating systems and focusing on Apple's web browser technology, Webkit- which powers safari, allowing them the same access to devices which Apple itself has.
The main devices being targeted are the iPhone 6S, and later models, newer iPads and Macs, including the following software and versions:
iPadOS prior to 15.6.1
iOS prior to 15.6.1
macOS Monterey 12 prior to 12.5.1
Recommended actions
Check your OS version and update if required. To do so, navigate the menu as follows:
On your iPhone or iPad: Settings > General > Software Update
On your Mac: Apple menu > About this Mac > Software Update
Ensure automatic updates are turned on
There have so far been no confirmed reports of specific cases where the security flaw has been used against people or devices. However, the cyber–security world is concerned and encourages users to act now to take control of their security.
A day of golfing keeps the worries away!
After a long-awaited return, our annual charity Golf Day took place on Friday the 5th August 2022, at Wickham park golf club. In aid of Naomi House & Jacksplace, we gathered a number of Hampshire's finest golf enthusiasts and embarked on a glorious day of Golfing.
With a bright and early start, the golfers arrived on site, registered, and sussed out the course with breakfast in hand, eagerly awaiting the briefing before being let loose on the course. Once all golfers had arrived at their designated starting holes, the Clackson sounded, and the fierce competition began.
As the golfers made their way around the course, they also had the opportunity of participating in mini-challenges, including: Longest Drive, Nearest the Pin, Buy the Drive, Marshmallow and Hole in 1.
The excitement around the challenges added a vibrant buzz to the air, as the gleam of the Hole in 1 car prize glistened on the 10th Hole, and the determination to win could be seen in the marshmallow challenge, as participants shot giant marshmallows flying across the course!
BT are to take part in two 24-hour strikes in a dispute over pay.
The Communication Workers Union (CWU), which represents the employees at BT, said customers could expect disruption to services, including repairs, having new phone and internet lines fitted or getting hold of contact and support staff.
The strikes will take place on 29th July 2022 and 1st August 2022.
The company has offered employees a £1,500 per year pay increase, which the union claims is effectively a pay cut considering rampant inflation.
BT said it had made its best pay offer and would not be re-opening the 2022 pay review.
Those striking are largely Openreach engineers and call centre workers.
When the union voted to strike last month, BT said it was disappointed and would "work to keep our customers and the country connected" if staff walked out.
CWU general secretary Dave Ward said: "For the first time since 1987, strike action will now commence at BT Group."
"This is not a case of an employer refusing to meet a union's demands - this is about an employer refusing to meet us whatsoever,".
The union said the strike action would likely affect the roll-out of ultra-fast broadband and could cause significant issues for those working from home.
"These are the same workers who kept the country connected during the pandemic. Without CWU members in BT Group, there would have been no home-working revolution, and vital technical infrastructure may have malfunctioned or been broken when our country most needed it."
BT said it had engaged in "exhaustive discussions" with the union before finally deciding on a £1,500 payment, which is its "highest pay award in more than 20 years" for workers.
BT said in a statement: "We have tried and tested processes for large-scale colleague absences to minimise any disruption for our customers, and these were proved during the pandemic."
Openreach has indicated they plan on reintroducing the priority staircase used during last year's COVID lockdown focusing specifically on those orders deemed "critical" by government guidelines — an updated list of these sectors is to be released soon after.
Silver Lining holds bi-annual company conferences, where each department presents their news over the previous six months with the aim of keeping the whole staff body up to date with the happenings of the entire business. There are also some fun and games, food, lots of laughter and team bonding involved.
On the 29th of June, we held our summer conference for 2022. Hosting the conference in the grounds of our office at the Granary in Whiteley, we were lucky enough to have the sun shining on what was a glorious day spent outside. The theme of this year's conference was mini golf and garden games, with a BBQ and prizes to be won!
We kicked off the conference with a BBQ; everyone helped themselves to a wonderful selection of food and then seated themselves in preparation for the presentations.
After a welcome from the company director, Allan, and his overview of company growth, we then heard from Internal operations and accounts.
We then took a short interlude to stretch our legs and refresh ourselves. During this time, the final matches of the Silver Lining Table Tennis Tournament took place; this was only the beginning of the friendly competitive nature of the day! A number of the staff took to opportunity to take a test run on the mini-golf course in preparation for the mini-golf championship, which was to commence later in the day.
After table tennis and mini-golf had been completed, we returned to our seats for the final presentations from Ops & Cops and Sales, Account Management and Marketing.
Then the real fun began: more food and drink, football, table tennis, and of course, more mini-golf!
Staff members could be spotted perfecting their golfing skills on the incredible pop-up mini-golf course, which featured holes with a helter-skelter, windmill and a Ferris wheel, just to name a few! After several rounds, trying to beat their own scores, some more successfully than others, the mini-golf competition came to an end, and the scores were presented in readiness to crown the winners.
It was a lovely low-key, relaxing and fun day, and just before the event drew to a close, the winners of mini-golf and table tennis were announced, then we all headed home, happy and full of fabulous food and great memories!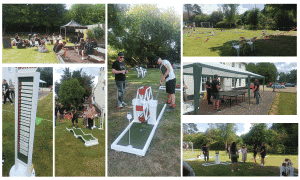 It's always exciting to see a new website launch. Everything is new and fresh, and there's so much potential for what the site can become. It's like a blank slate waiting to be filled with great content and excellent features.
We are excited to announce that our new company website is now live. Over the last few months, the team have been working hard to create a unique, sleek, shiny, and up to date website, and we are incredibly excited to show everyone the finished product.
We've been working hard on this site for months, and we're so excited to finally share it with the world. Our goal with this website was to create a place where our customers could come to learn more about who we are and what we do.
We think that we've accomplished that and then some. You'll find information about our company history, our product offerings, and even some tips and tricks for getting the most out of your purchase from us. In addition, we've made it even easier for you to get in touch with us and stay up-to-date on all the latest news.
We have a simple and easy-to-use customer portal for our existing customers, so all your account information is at your fingertips and easy for you to track.
We have also upgraded our vacancies and news pages, so you can see all the exciting events we have planned for the rest of the year! The resources section has also grown and is easily accessible. We have everything from blogs to guides to videos and whitepapers.
So, whether you are an IT & Telecoms whizz or still learning about the industry and what your business needs, the new website is here to help. And there is always a friendly human being to help with any website enquiries, so we can find the best option to fit your needs.
There may be some areas of the site that are under construction and being worked on, but we will be working hard to get those up and running as soon as possible.
So, don't forget to go and check out the website and let us know what you think.
This type of malware will encrypt your files and then demand that you pay them back to get access again - this can be especially bad when it comes time to try restoring critical data from these encrypted volumes!
Ransomware attacks are not a new phenomenon at all within the digital world, however, the one blessing is, that we now have modern technologies in place to protect ourselves. Ransomware technology companies are continuously developing software to continue to reduce the risks of falling victim to an attack. However, the other side of this story is that, as we continue to learn, grow, and adapt technologies, so do the cyber attackers. Therefore, it is not only key to have the most up to date systems in place, but also to recognise the other signs of a ransomware attack.
Some key stats on Ransomware attacks:
A ransomware attack happens every 11 seconds.
Approximately 37% of global organizations said they were the victim of some form of a ransomware attack in 2021.1
The rate of cybercrime increased by 600% during the COVID-19 pandemic. From 2019 – 2020 ransomware attacks alone, increased from 187.9 million to 304 million globally.2
Since September 2020 Phishing emails have reduced from over 50 million per week globally to 10 million per week.3
43% of ransomware attacks in the UK were stopped prior to data encryption.4
The average cost for companies to rectify a ransomware attack is $1.4Million.5
On average 73% of companies use data backup sources to recover their ransomed data when a ransomware attack occurs.6
So, what can we learn from this...?
Maintain a defence-in-depth security program. Having multiple layers of defence is a key best practice, this could be through off-site storage.
Consider advanced protection technologies. The use of extended detection and response can help organizations identify potential risks that could lead to ransomware exploitation.
Risk education and training for employees. Often, it is users clicking on something that they should not that can lead to infection. Education and vigilance are important.
Patch regularly. Ransomware code often targets known vulnerabilities. By keeping software and firmware updated, an attack vector can be eliminated.
Perform frequent backups of critical data. Ransomware's target is data. By having reliable backups, the risk of losing data can be minimized.
Conduct internal pen-testing. Put your systems to the test, this will help you to identify any weak spots within your cyber security, which you can fix before they become vulnerable.
If you find your business is falling short of any of these recommendations, then you will want to investigate securing your systems as soon as possible! For any company data is its lifeline and needs to be protected at all costs. Silver Lining provides the highest, most secure standard of Pentesting, firewalls, and secure data solutions, using tier 3+ data centres, so we understand the importance of protecting your business, and the best way to achieve it.
References
1: https://www.techtarget.com/searchsecurity/feature/Ransomware-trends-statistics-and-facts
2: https://www.statista.com/statistics/494947/ransomware-attacks-per-year-worldwide/
3: https://query.prod.cms.rt.microsoft.com/cms/api/am/binary/RWMFIi?id=101738
4 –6: https://assets.sophos.com/X24WTUEQ/at/4zpw59pnkpxxnhfhgj9bxgj9/sophos-state-of-ransomware-2022-wp.pdf
On the 29th of April, a number of petrol head wannabes headed over to Thruxton Karting centre to hit the track and burn some rubber.
It is an annual Silver Lining tradition to host a corporate racing day for our clients. After all, Silver Lining is more than just an IT & Telecommunications business; we build relationships and provide a personal experience.
With goody bags prepped, and pastries awaiting hungry clients, our guests arrived. After signing in, and networking over a steaming hot coffee, we sat down in preparation for the Silver Lining presentation.
We were also lucky enough to have an ambassador for Naomi House come and speak during the presentation, helping to highlight all the amazing work they do, and why they are one of our chosen charities. And we also had a presentation from Beyond Encryption, discussing more of the technical side of the business.